…as simply messing about in boats. Grahame's maxim was put to the test by thousands of boaters during the Queen's astonishing jubilee pageant, which marked the beginning of a fabulous long weekend of 60th anniversary celebrations.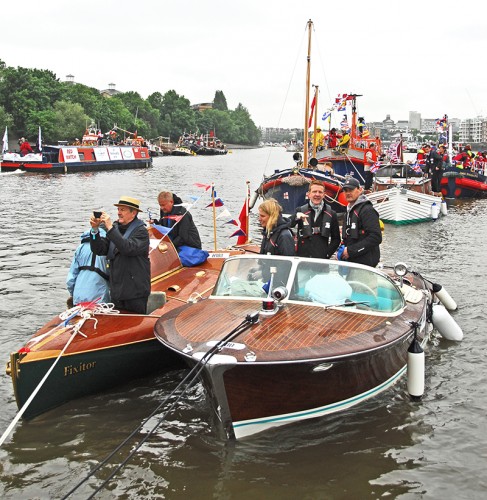 With minutely organised precision, and in temperatures far lower than expected, 1,000 boats were mustered at Putney: from single canoes to large passenger ships, including steam boats, livery company barges, fire launches, military vessels, and a flotilla of doughty Dunkirk small ships. There were Maoris performing the haka, Venetian gondolas, Dutch barges and narrowboats, RNLI rescue ships, naval craft and working trawlers. A whole panoply of waterborne life, some crewed professionally, many in the charge of amateurs, some of whom had been in training for months.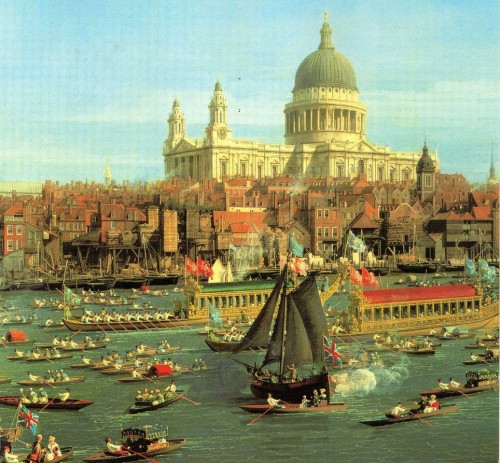 All this was conceived by the Queen's pageant master Adrian Evans, who was inspired by Giovanni Antonio Canal's 'River Thames with St. Paul's Cathedral on Lord Mayor's Day' of c.1747. The detail above is from the privately owned original in the Lobkovicz Palace Museum, in Prague. A copy is on show at Greenwich. It is one of two Canalaletto views bought in 1748 by 24-year-old Prince Lobkowicz, then in exile in London. Canaletto excelled at the production of highly saleable, gorgeously tinted souvenirs for his well-to-patrons and might have been a director of lavish historical spectaculars or even a Disney theme park designer today. Could the 21st century pageant possibly deliver the same 'wow' factor?
The republicans made their protest, and doubting commentators described the whole event as a meaningless house of cards, or the emperor's new clothes. Others saw it as a waste of money (altho that was all from private donations) and an ordeal for the Queen and for Prince Phillip, who spent hours gamely waving whilst standing behind the specially provided red thrones which seemed to be bearing the brunt of the foul weather, atop what seemed to be a kind of floating garden centre with added golden bling.
My practice sessions with the Goring Gap Rowing Club were not needed. I was to have been rowing on what was once the footballer Jack Charlton's Yorkshire Coble, but after a last minute change of plan cut the crew down to minimum numbers for safety reasons and I was fortunate to be able to transfer to Christobel, "a teak hulled 'gentleman's launch' built in 1911 on an oak frame".
We waited (and lunched) in the middle of historic squadron which was split into four neat lines, each boat numbered and in the precise formation it was to follow for the whole day.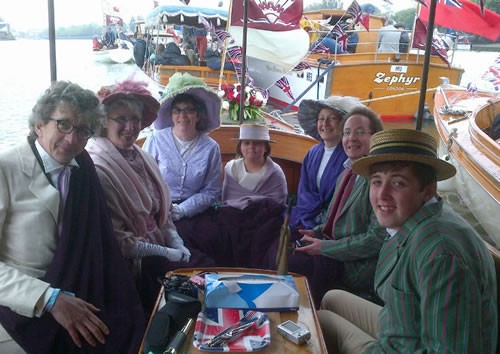 We saw little of the events described in the hours of television coverage, complete with many meaningless inserts including an unamusing broadcast from Pete Townsend's former cruiser Zephyr just in front of us, where Sandy Toksvig marshalled Omid Djalili, Grif Rhys-Jones and Maureen Lipman who had earlier bantered with the boat to the right of us about her lack of booze. On camera she lamely commented that they had been much funnier earlier.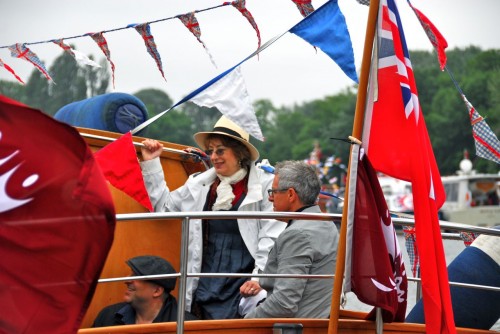 There was a constant flutter of red, white and blue from the cheering thousands mustered all along the banks, with many more craning their necks for a sight of the river or of the huge screens which provided technicolor views of what was in reality a very grey day.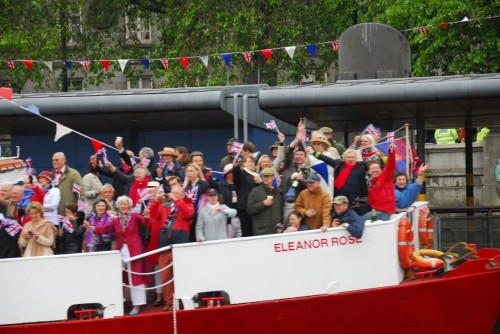 More crowds waved and cheered from every boat we passed and from each of the 14 bridges we passed beneath. Bugler Ben blew his horn and ships around us and people on the bank called back.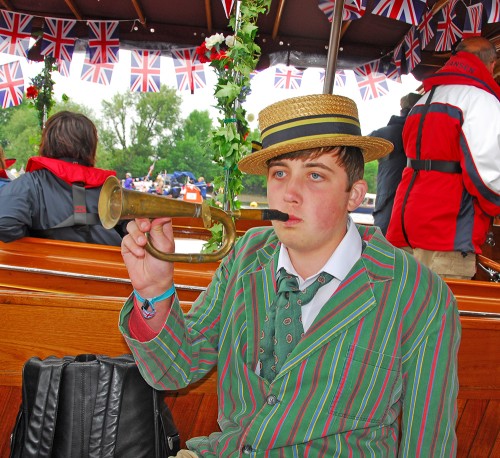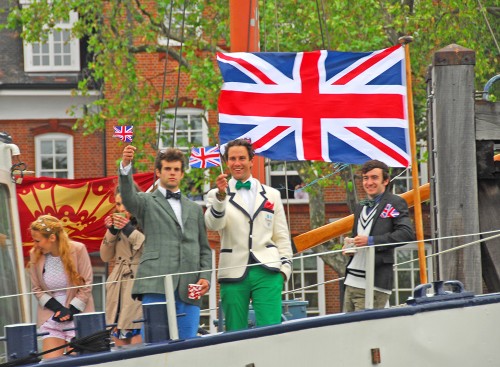 Assorted Middletons struck appropriate poses as we passed by. Good-humoured spirits made the day, even as we finally got under Tower Bridge to the royal barge and the sky darkened and the rain tipped down. There was grit and pluck by the dank bucket load. From high above, the royal family even had a wave for us.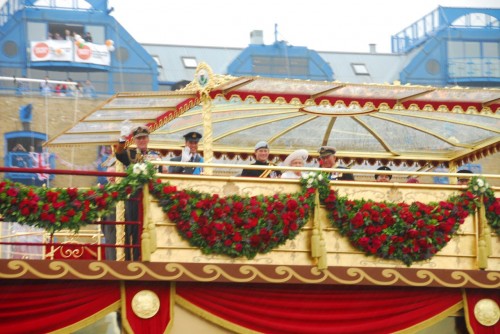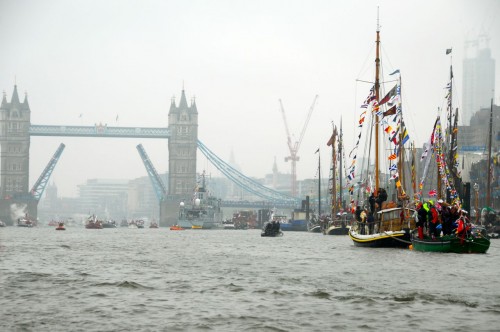 I had imagined a retired admiral preparing almost 85 pages of passage plan and general instructions which every skipper was required to absorb, long before the finally scutiny session minutes before the start where he was finally awarded the pageant flag. The text contained such helpful aperçus as "there may be some exciting moments generated by misjudgements and momentary loss of situational awareness" and "be aware of the majesty of the occasion and that profane language and inappropriate or indecent behaviour is not acceptable".
There were these aplenty on board Christobel when after an uneasy night on board and more than seven hours of travelling, her skipper had to attempt to maintain a fixed position in a jostling and chaotic melée of ships of all sizes waiting to get into the lock of the West India Dock. Strong winds and the impossibilty of steering to starboard whilst going astern only added to the difficulty, but somehow we eventually got to the calm waters of the lock and to a safe mooring beyond.
The great procession was led off by a peal of bells named after senior royals. It ended with a soggy chorale from the Philharmonic Choir on a ship held midstream before the queen. As the great bascules of Tower Bridge were finally lowered, there was a rain-washed firework salute followed (one might imagine) by a hasty dash for royal warmth.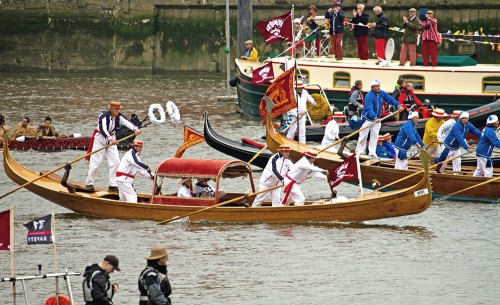 A friend who was amongst the mighty gondoliers reported afterwards that they met with mixed fortunes, and that with just four oars in his boat against eighteen in another, they were hard-pressed to keep up in the poor conditions once past Tower Bridge, and soon after gratefully accepted a tow. Poor Jack Charlton broke an oarlock and took a tow from halfway, with oarsmen suffering from hypothermia in Hiawatha, the owner's other boat.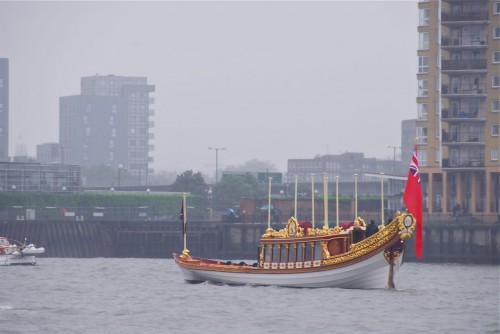 As the rain pelted down, even the supposedly man-powered barge Gloriana seemed to be dashing for shelter with almost unseemly haste. For this particular participant, the day may have been a little short of longed-for 'wow' moments, but it was a uniquely British spectacular I shall long remember.
More pictures here.