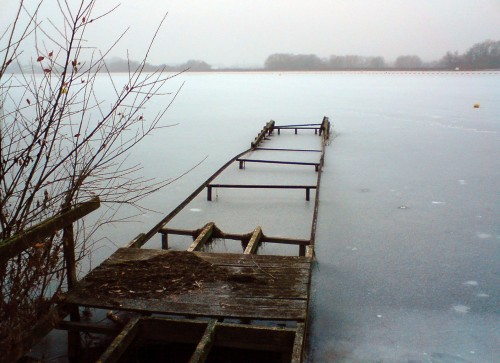 A favourite spot for outdoor swimming looked less than inviting today. Freezing temperatures didn't stop thousands of hardier souls taking to the water on Boxing Day, nor will it deter participants at the UK Cold Water Swimming Championships, at the unheated Tooting Bec Lido on 24 January.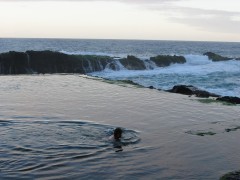 Counter-culture doesn't just mean hippies or punks. A growing community of mildly rebellious people with a healthy disrespect for 'elfensafety' swim in lakes, rivers, tidal pools and 'water-holes'. A raft of sites and forums promote wild swimming, inspired by Roger Deakin's Waterlog, which is a magnificent celebration of bathing all year round in Welsh mountain pools, Cornish holy wells, trout streams and lidos. Deakin died in 2006. There are photographs of his idiosyncratic living arrangements at the house he built at Walnut Tree Farm (including the moat that inspired him to write).
Deakin had a natural gift for the most economical prose. His description of a kingfisher '"streaking by in an afterburn of blue" took me back to a swim below the weir here. As I bobbed in the water midstream, a pair of kingfishers flashed before me, tugging at either end of a twig.
'Sweet water' perfectly describes the sensation of immersion in inland waters. Even outdoor chlorinated pools will give you asthma, salt stings, but fresh water has an earthy softness like nothing else.