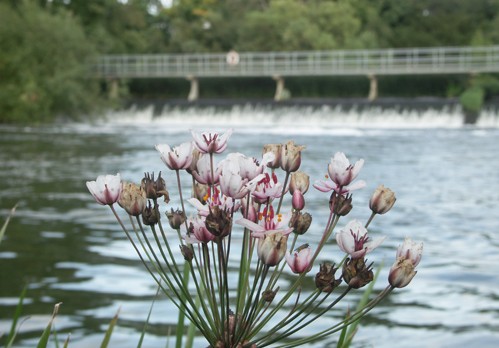 I've been swimming again at tumbling bay. Not some exotic Carribbean destination, or even a disused swimming place in Oxford, but the weir pool near here. My nieces had some canoeing practice and I swam down to where the local swimming club used to have its hut. When I was a child I used to wonder what the mysterious abandoned building was, lost in trees close to the river. Then I was given an account of an annual swimming race which used to be held from here to the next village, about 3 miles downstream.
Before foreign holidays, the river was the place for energetic recreation. In Edwardian times the village had its own annual rowing regatta, and for many years boats were for hire at Mr Light's refreshment stall.
Rivers gave life, providing water for drinking by both humans and livestock, and they also carried away the dead. A local mill-owner is still remembered for having punted his wife's body the same 3 miles from the house where she died to her burial place in the family plot in a churchyard close to the river.
The Thames was for work as well as play. Besides the corn ground at the watermill, which was listed in the Domesday book, the damp water meadows round here were perfect for growing willow osiers for the basket-making industry, which had their bark removed (stripping the willow) after soaking in the ponds which several houses still have in their gardens. More than one 18th century local listed his occupation as fisherman - presumably trapping eels in basketwork traps made from osiers taken from the same local withy beds.
As I swam in the fast-moving water I remembered a solitary swim I took years ago when a pair of kingfishers swooped low over the water down at tumbling bay - held in tight formation by the same short stick they both gripped tightly as they flew. So landscape joins our lives with the lives of others, like ours, but lived no more.