Where else but at Calshot Bay, a little known stretch of coast close by Fawley power station in Hampshire, where the great liners still slip out of Southampton Water, dwarfing beach huts to the size of matchboxes, and an annual cricket match takes place on a sandbank two miles out to sea?

William and I motored down last weekend and spent a pleasant few hours re-acquainting ourselves with the pleasures of this gloriously eccentric place. I was promised a fishing trip by an amiable ruddy-faced 'sea dog' from Farnborough and we swam with a man whose boyfriend of ten years was wanted by the Police in Reading and 'of NFA - no fixed abode'. The fisherman had bought his beach hut from the wife of the film director Ken Russell, whose family own a line of the grander huts at the west end of the beach.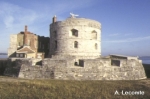 Calshot Spit was home to Lawrence of Arabia, when he was stationed at the RAF base there. Here is a castle built in 1540 to defend Southampton Harbour, which was even then one of the largest ports in the land. The last ever Schneider Cup flying boat races were held here and a giant Grade II* listed hangar from 1917 is named after the Sopwith Camel, said to be one of the finest fighter planes of the First World War. Cyclists now race where the aircraft stood as the hangars house an echoing velodrome that is part of the Calshot Activities Centre.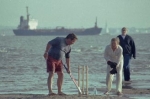 We chatted in the Bluebird - Calshot's tiny beach café, named after a Schneider craft - watching the confusion of boats moored around a cricket match being played on the Brambles sand bar two miles out in the Solent. This truly bizarre institution takes place for only about an hour on just one day a year. There is (barely) enough dry land for players from two sailing clubs on the Isle of Wight and at Southampton to take their runs against a backdrop of supertankers.

Earlier we had been politely asked to leave a stretch of protected beach by two well-spoken fellows in cream chinos and blue Oxford shirts - summer uniform of the young upper class male - one of whom (I think) turned out to be a scion of the Drummond family, who made their money as royal bankers. The family own the Cadland Estate. Just before I had chatted to an estate worker with a pleasant Hampshire burr who said he was down on the beach to check out the fishing.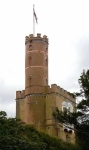 The water was pleasantly warm and shallow as William and I swam together from the far end of the beach to the steps of Luttrell's Tower, a splendid 18th century folly now owned by the Landmark Trust. On the drive home the sun set spectacularly behind power pylons, but all my thoughts were of the glories of the English seaside.