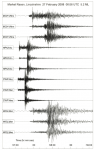 It started with a low, distant rumble, somewhere to the north. It was 1am and I was wide awake and I thought I could hear rocks being ground together somewhere far, far away. I was wrong. The sound was not man-made - it came from deep down beneath the earth's surface: it was an ancient and utterly fundamental sound.
Then everything - me, my bed, the whole house - seemed to quiver slightly and it got faster and louder and ornaments were knocking and I knew this was my first experience of an earth tremor. After a few seconds the shaking died away. Then the only sound was the roar of water pouring over the weir and the call of a frightened blackbird, - 'pink, pink, pink', darting away in the darkness.
Apparently around 25 earthquakes are felt in the UK annually. At 5.2 on the Richter scale this was a one-in-30-year event, last matched by a 5.4 in Wales in 1984. It happened 15km beneath the earth's surface. The last time where was major earthquake activity at the epicentre, in Market Rasen in Lincolnshire over 100 miles from here, was in the 12th century. The seismologists say an old geological fault has opened up and may now become more active.