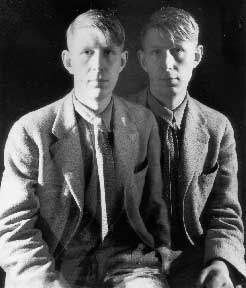 Pleasing to find the GPO's film Night Mail on YouTube, not least because of the 3D lettering in the title sequence. Auden's words have such terrific over-the-tracks rhythms in the 1936 short which apparently 'starred' a parallel-boilered locomotive 'Scots Guardsman'.
This photograph by Beaton shows Auden pale and interesting, rather than with his celebrated old man's limestone pavement of a face.
One hundred years after his birth there's much debate as to his ultimate literary merit, with conferences and even a dedicated website. In 1972 he was guest of honour on Michael Parkinson's chat show. How many poets achieve that today? Whatever posterity's judgement, the Night Mail is reminiscent of rap poets like Benjamin Zephaniah.
These fashionably dumbed-down days, Zephaniah is most definitely in the poetic driving seat, with Auden lost in a cloud of smoke somewhere in the buffet car.