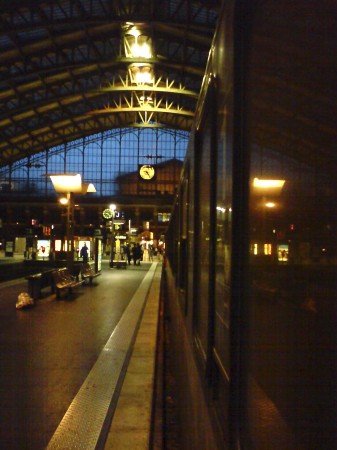 After a ferry crossing to Calais that threatened storms but turned out calm, then a short onward journey by train, Lille station was dimly lit and cavernous.
The crowd clustered round the barrier waiting to board the overnight sleeper to Cannes. Like a guard of honour, the train crew lined up before us. Inside the sixties-built first class sleeper carriage it was dark. With a four person compartment to ouselves, we took a sleeping bag and pillow, a bottle of water, earplugs and other necessities, pulled down the blinds and made ourselves as comfortable as we could. As we lay on our bunks the train seemed to ride the track lightly, bucking and flexing over the steel rails beneath it. The carriages swayed rythmically over the tracks - as if the train was being rocked to sleep by the rails - then suddenly rattled on with a great thundrous clanging. On the doorway and panel above, luminous controls glowed in the half-light. I slept lightly until we arrived in bright sunshine at 10.15 in Cannes, 24 hours after my journey began.

Prematurely sun-aged women in gold shoes and fussy peasant style white dresses, designer shops and gay boys sashaying it to the beach. Determined pleasure-seeking everywhere. After a confusing drive through twisting lanes we found our 'bastide' – once a grand Provençal farmhouse and now the holiday home of one of the City's most successful young investment bankers. Several dusty acres of what was once productive terracing lie behind a high fence and even higher electric gates. A long lavender-lined drive sweeps to improbably lush lawns at the foot of a lovely 3-storey cream building, with a grand balcony off the master bedroom and inside vast cool rough-tiled echoing corridors, a black Murano glass chandelier and a staircase sweeping to our rooms.

A grand Empire style bed and a bathroom with an almost Moorish shower enclosure and a freestanding claw-footed bath. Stunning views over the countryside towards the sea. A deep 'L' shaped pool with the warmest, barely chlorinated water where I swam without a costume in the hot afternoon sunshine.

Tonight we walked for 20 minutes past other impressively protected properties, to the centre of Mougins on the hilltop, where water rushes down a narrow channel from the door of the recently designer re-decorated church. The shops are either galleries, restaurants or estate agents. The well-heeled French are all around us, with the best shod of all at the 'Moulin de Mougins' – one of the best restaurants in France.

Tomorrow perhaps a trip to Grasse, where visitors learn how to blend their own perfume, or more rest and idleness in the shade by the pool. It is strange being in such a marvelously wicked place without a lover.