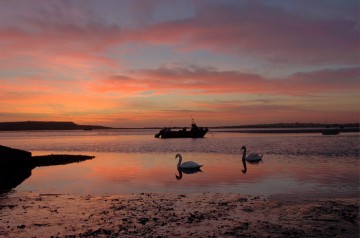 Such a vivid dream last night. I was standing on the beach at Mudeford, where I spent many happy holidays as a child. A strong wind was whipping up the waves, rocking the sailing dinghies riding up and down on the water in the harbour. I could hear the metal rigging repeatedly striking their aluminium masts and saw Peter Bath standing in the shallow water.
'One of the south's most colourful and best loved businessmen', he died on December 22, 2006. I knew him as the owner of the beach hut next to ours. When we were 12 or 13 he lined a group of us up in front of his hut to hold an impromptu exercise class 'Peter says touch your toes - now jump up in the air!' Soon dozens of kids from the beach were joining what became a daily ritual. When we were older he took us water-skiing and on mackerel fishing trips and as a teenager I joined in with nightly games of 'bankrupt whist'. He was always the kindest, most jovial of uncles I never had.
Some wondered why the owner of a small airline and a chain of travel agents chose to spend three weeks of every year in a wooden hut without a bathroom that was less than 24 foot square. Truth was that he (and we) were blissfully happy doing the simplest things: wandering over Hengistbury Head with its rhododendrons and Iron Age barrows, walking down the beach for ice cream in the beach café, fishing for crabs from the ferry mooring or just watching spectacular sunsets over Christchurch Priory.
In my dream Peter stood in the water holding the painter of a fast blue Solo sailing dinghy. He had just rigged it and the boom was jiggling back and forth in the breeze - as if the boat was just waiting to get sailing. Peter held out the boat's rope to me, inviting me to climb in and sail off across the harbour.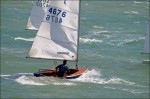 (Mudeford image thanks to www.nutrocker.co.uk)