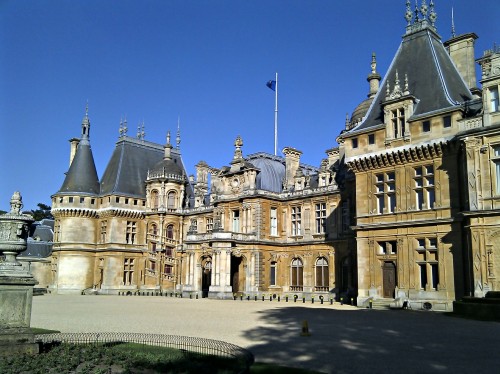 Devoted art lover or not? You might want to consider a trip to Waddesdon Manor in Buckinghamshire where the latest experiment in juxtaposing ancient (or rather neo-renaissance) and modern is on show. I was able to make a trip there yesterday afternoon.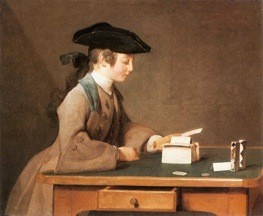 Exhibited in the gardens are 33 'responses' to Chardin's painting 'House of Cards' which is to be found within the Manor. They have been made by as broad a cross-section contemporary artistic luminaries as you are likely to find in any public gallery. Names like Gormley, Koons, Kapoor and inevitably Hirst (whose works here are available to buy if you happen to have several million handy), plus slightly less well-known names: Serra, Judd, Tony Smith and even a Rothschild.

Without knowing the context, as the explanatory leaflet had yet to be provided, we were unimpressed by Serra's huge cube of balanced corten steel plates. 'House of cards' is at the centre of the show and seeks to establish its theme, which is that nothing is at it seems. Its uniform, rusty massiveness failed to delight us, unlike several of the other pieces we saw.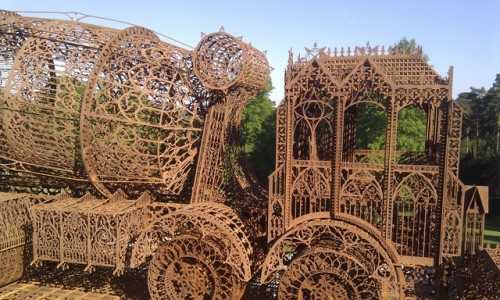 Some impressed partly by their sheer technical sophistication. Steel can now be laser cut with microscopic precision into the most delicate of filigree patterns.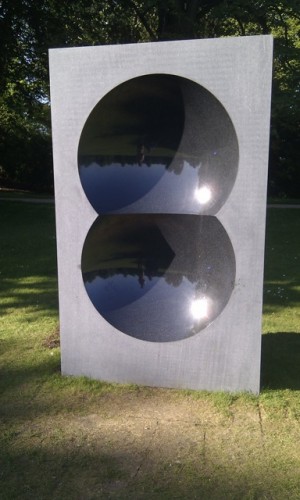 Granite can be transformed into paradoxical mirrors. A monolith weighing 6.7t has been polished by Kapoor into intersecting hemispheres that reflect an upside down world.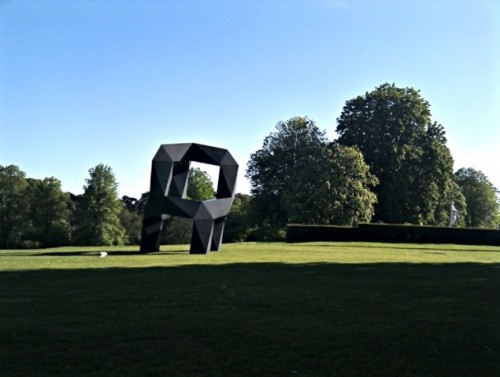 Smith's 'Moondog' is named after a New York poet and musician and a Joan Miró painting. It weighs almost two tonnes, and had to be installed on grass that could not be disturbed to more than six and a half inches. Like a house of cards, it balances precipitously, its massive forms making an engaging counterpoint to the rococo ornament all around it.

Turner prize winner Tony Cragg defies gravity but does not delight the eye with his pile of tyreish turds, 'Wirbelsäule' (spine):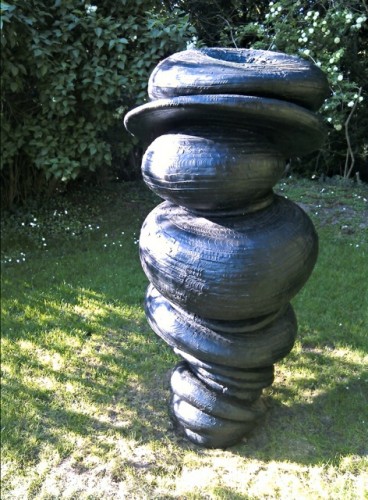 Robert Indiana's steel 'Love' is close to classical statues of Venus and Cupid.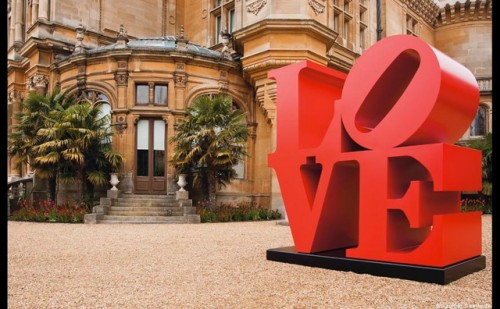 Eva Rotschild's 'Meta' evidently works with the house of cards theme. The result is a pleasing interplay of sharpness and curves.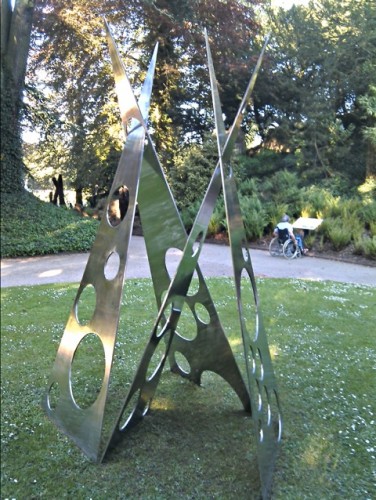 There's a lot more we didn't have time to see or photograph, including an inevitably bifurcated pig and a spotted mini (Hirst) and a huge steel teapot that perfectly matches the 'Alice in Wonderland' theme that Christie's have adopted in their video which publicises the show. The exhibition benefits from being set amid the natural forms of the formal gardens at Waddesdon, which as we left, seemed themselves to take on sculptural qualities.

You have until 28 October to catch the exhibition, which officially closes at 5pm (although we wandered round in tranquillity until almost 6.30)

See also an excellent FT article with an interview with Jacob Rothschild.