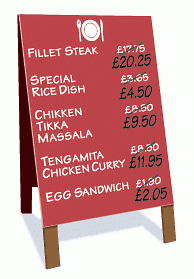 The Telegraph today bewails the fact that customers of Indian curry houses in the UK - which imports more rice than any other EU country - can look forward to smaller portions, higher prices, less meat and more vegetable dishes. In other restaurants: "We've heard that people are taking away the little embellishments - fish and chips might now be missing the coleslaw...Where before you might be offered a 4oz and 8oz steak, now you can only have the 4oz."
These dire depredations aside, it seems likely that most of us fortunate enough to live in Europe and the US will take the consequences of the developing global food crisis in our stride - but what about the rest of the world?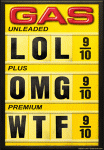 Western motorists are bridling at fuel price rises (petrol up almost 40% in the US in the last year). In the UK, the cost of basic foods, like bread, butter and meat is up by 12%, with overall food prices up 4.6% for the year to February.
But in places like Nigeria, where people spend about 73% of their income on food (as opposed to around 10% in the developed countries) things are more serious - much more serious. Like one half of the world's 6bn population, many Nigerians are dependent on rice, which has gone up by 75% in just two months. The average cost of rice has doubled in under a year - and the increases are expected to continue for at least another two to three years.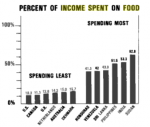 How will people survive when their staple foodstuff is unaffordable? No wonder there have been riots and protests in places as diverse as Italy, Bangladesh, Egypt and the Philipines. In Haiti the government has just fallen because it did nothing after a week of protests.
World Bank Group President, Robert B. Zoellick, headlined the crisis this week:
In Bangladesh, a 2 kilogram bag of rice...now consumes about half of the daily income of a poor family...The price of a loaf of bread...has more than doubled. Poor people in Yemen are now spending more than a quarter of their incomes just on bread before they pay for other essential foods for their children, let alone basic health care or shelter.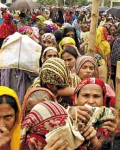 Zoellick went on to predict that a total of 33 nations are in danger of unrest caused by rising food prices. "the international community must fill the at least $500 million food gap identified by the UN's World Food Programme". In the Philipines, decades of under-investment in agriculture makes the country heavily dependent on rice imports. Traders are accused of hoarding grain to exploit the resultant price rises. They won't be buying from India any more, since that country has this week re-imposed a ban on all rice exports except high value basmati. China reports that although rice production is increasing, its increasingly affluent population is switching to less efficiently produced meat and dairy foods.
So it was puzzling (to say the least) to hear the head of the United Nations World Food Programme Josette Sheeran (who says that "we are entering a new era of hunger") admit on R4 this week no-one really knows the cause of the food crisis - let alone its solution. Globalisation has spun a complex and so far indicipherable web of inter-dependencies.
Global warming has contributed in at least two ways, with increased flooding and drought causing harvests to repeatedly fail in Australia and elsewhere. World reserves of rice and wheat are now at record lows.
The mistaken drive for subsidised biofuel is also taking land out of food production.
Biofuel production feeds oil company profits and makes food grain less affordable. Britain now requires petrol and diesel to contain 2.5% biofuel, rising to 5.75 per cent by 2010 and 10 per cent by 2020. Spiralling natural gas and oil prices also mean that fertiliser costs more. In Vietnam dependency on high levels of fertiliser is increasing and prices have doubled. Because of fuel price rises, the cost of farming the land and of delivering crops to consumers is also driving up food prices.
For free marketeers at least, the answer is simple. They put their faith in the markets' ability to bring about a 'correction'. And anyway, in Europe and the US obesity is at record levels, so people can afford to lose a few kilos. But are we prepared to sit back while the world's most vulnerable pay the price of this necessary 'correction'?