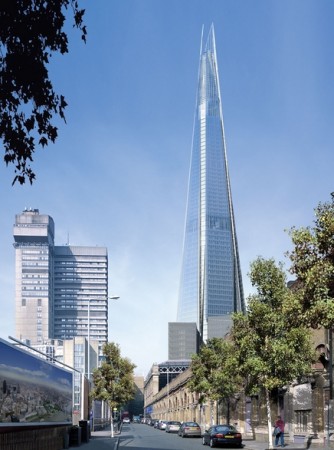 Given John Prescott MP's unlikely reputation as a lothario, it seems right that he be remembered for giving permision for London's most thrusting new erection - Renzo Piano's 'shard of glass' at London Bridge. Piano describes it as "a vertical town for about 7,000 people" based on "London's heritage of masts and towers".
And since economic ruin is aparently just around the corner what are the chances that financially it doesn't quite rise to the occasion? If it doesn't all go quite according to plan it's apparently the Qatari governement that will get their fingers burnt.
Building a tower taller than everyone else's is not an especially female obsession. Skyscrapers are the phallocratic bullies on the block: they shout down their neighbours, and as Piano says, have a reputation for "arrogance and mysteriousness". He hopes the shard and a matching 'baby shard' nearby will be lively, open spaces, available for the public's pleasure 24 hours a day.
An article in Building Magazine describes the construction of this new 310m high, 88-storey skyscraper, with some excellent animations. The developers promise surgical operations in Guy's Hospital next door will not be disturbed by the £350m work, and that the trains will still run (almost) on time at London Bridge station. Piano's racy design includes a hotel, the inevitable offices and a viewing platform near the top. If you put the Gherkin on top of St Paul's, the shard will still be 21m taller.
Outside Europe they do it bigger. In Dubai they are putting up a tower which will have a spire that will reach 818m, with the 164th floor 194m below. There's even a dam in Tajikstan which at 300m is almost as high as the shard will be.
A pity that all the materials for Prescott's needle will travel by road, even with a major rail terminal next door. If it all goes to plan we should be enjoying the view by June 2011.
See Skyscraper News for the latest on London's tallest buildings.