Happy I certainly am here on La Gomera, one of the smallest and greenest of the Canary islands. William, Marc, David and I have hired a traditional Gomeran house 1000m up from the sea called Cañada del Hoyito.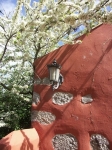 It really is a lovely place. Dona Efigenia, who let it to us, decribed it with good reason as 'muy preciosa' : wood and stone, high ceilings and simple furniture with terraces growing orange trees and sweet almonds in blossom. In the evening the scents are lovely and the stars dot the gaps between the densely growing circle of old palm trees just before the house. Tree frogs make up a chorus with the rattle of goats bells, the goats' bleating cries and the sound of distant dogs.

Efigenia herself is something of a phenomenon, specialising in parting tourists from their cash for peasant food at upmarket prices, where the poor punters pay through the nose for three hours of something one guide book euphemistically calls 'restaurant theatre'.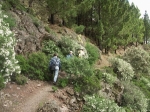 Yesterday was our first and we walked a great arc around this village, down steeply terraced green valleys [barrancos] heavy with the scent of white broom. After the rainiest winter for years Gomera is truly in bloom. We climbed up to the Garajonay national park which is divided between different parishes and is at the heart of the island. It's sub-tropical forest where mist billows suddenly into sunlit glades and the myrtle trees hang heavy with thick lichen fronds.

I swam afterwards at Valle Gran Rey after leaving my things next to a dark-eyed and ringletted Spaniard and his elfin girlfriend. Great breakers were running in on the main beach (we watched as the sun went down). From a restaurant in the port I saw a handsome curly haired man in nautical uniform put his arm around a friend's neck in an easy sensual gesture the intimacy of which seemed at odds with his excited talk.

Today has been a far longer walk from Chipude where we watched effigies of St Veronica and the Virgin being prepared for their tour of the village on Good Friday. We scrambled up La Fortaleza, a sheer wall of jagged rock and the second highest peak on La Gomera. On the flat top asphodel bloomed, elegant stems of flower among the scrub. A mysterious great spiral of low stones led to a circular cairn and beyond other delicately balanced rock piles made me think of Brancusi.

Climbing the last barranco to the highest village on the island we saw a woman on the opposite side of the valley. She carried a tall stick and with whistles and coaxing cries was herding goats home. Later this cocoa brown Miriam Margoyles offered directions and filled our bottle with crystal clear, goaty tasting water.

We missed the very peak of Garajonay, over 1400m, and walked back to a meal of cuttlefish and spicy sausages in the village café. Tomorrow should include a walk to a waterfall and more swimming.