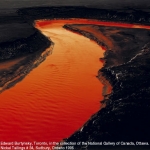 'What use is my wisdom against this chaos?' sings Brünnhilde in Phyllida Lloyd's production of 'Twilight of the Gods' at the Coliseum in London. After almost six hours of climactics, Wagner's Ring Cycle ends as Brünnhilde immolates herself together with the cursed ring of the nibelung which is to be purified by the same fire that will take her to her beloved Siegfried.

This was the first time I had seen more than 'the Valkyrie', the second in the cycle. That production in Budapest stunned me, every emotional nuance of the characters seemingly mirrored by the wonderful expressiveness of the orchestral writing.

The ENO production has been more controversial. I sent my sister to the much shorter 'Rheingold' - number one in the cycle - as her introduction to live opera. She and her husband loved the music and the light-hearted staging.

Traditionalists found plenty to gripe at: Wotan seem to have been partly inspired by Ozzy Osbourne and we saw him in the bath. A soap opera in every sense. On balance, I enjoyed the 'home life of the immortals' staging. The non too subtle story was that the Gods have crises just like characters in 'Eastenders'.

Even so, a measure or two tragic grandeur in the final part of the Ring seemed essential, even for the most contemporary of productions. Act one, the longest at over two hours, began with the lady norns getting their knitting of time in a twist. The Rhinemaidens pole danced again and the valkyrie were encouragingly punky (as seen at last year's Glastonbury Festival). But the singing lacked oomph, wicked Hagen was off-key and Siegried was underwhelming.

It got much better in the second and third acts. Siegfried's death and funeral march and Brünnhilde's burning were terrifically involving. The Rhine rose to cover her ashes and Valhalla fell with three vast shimmering golden curtains and a fade to black.

Powerful stuff and far too complex for me to fully comprehend after just one performance. The sensual, amoral music thrilled me but the performance lacked the devestating impact I hoped for. Am I becoming jaded or can the English not do Wagner?