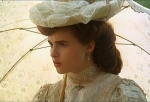 So said film-maker Ismail Merchant, who died on 25 May aged 68. His belief 'in doing things in the most unorthodox manner' made him a genius at raising funds for films like his favourite 'A room with a view', and for 'Howards End' and 'Maurice'. Often derided, 'costume drama' is nowadays a term of abuse, apparently signifying overly lavish sets, the rustle of crinoline and limp romanticism. But for me there is a joyfulness about some Merchant Ivory productions that is out of sync with our predilection for gloom and complaint. Helena Bonham-Carter's Lucy has a passion for life, for Italy and for love itself that puts her at odds with convention.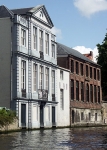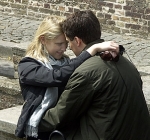 I was in Bruges for a friend's birthday last weekend. After showers we enjoyed the medieval townscape in the just-washed clarity of bright Spring sunshine. Lovers seemd to be everywhere and in the glorious Orangerie it was a little like a Merchant Ivory production. Champagne and smoked salmon from the buffet for breakfast, with a view over the sparkling canal from a richly furnished room in a former convent. Tea from a Georgian silver pot, linen napkins, fresh strawberry and pineapple and little cakes made from the richest Belgian chocolate.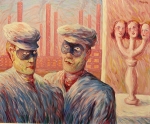 At the Musée Royaux des Beaux Arts, Brussels I loved the loose brushwork and lightness of this painting by Magritte. In the Arentshuis museum in Bruges are paintings and prints by Sir Frank Brangwyn (1867-1956) – one of those artists whose work seems due for re-evaluation. His painted work is almost frivolously sunny and optimistic, while his prints are wonderfully dark and brooding. Anglo-Saxon dourness and mistrust of the unfamiliar probably lay behind the rejection of his sumptuous 'British Empire Panels' intended for the House of Lords and finally displayed in the Brangwyn Hall in Swansea. A similar dourness and disapproval of anything arty must be the reason why a relative of mine burnt some of Brangwyn's original drawings, given to a family member who was Brangwyn's chauffeur and one of the first licensed drivers in London.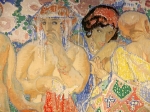 One the train home, two young American men with close-cropped hair gazed at each other and kissed and canoodled. Long live unconventionality.

Telegraph obituary for Ismail Merchant
IMDB filmography for Merchant