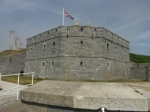 Undiscovered Pembrokeshire and the Landmark Trust's stunning West Blockhouse provided a terrific location for a holiday during the hottest week of July. Built in 1857 to defend Milford Haven, the second largest natural harbour in the world (the other is in New York), the fort is built from great slabs of impeccably jointed marble and limestone. A moat and narrow drawbridge protect it from attack.
Six of us walked the coast and swam from deserted coves. We sat about reading and played each other music, cooking huge meals in the fort's panelled rooms, impeccably furnished in period and hung with military prints and portraits of vaguely disapproving military gents. The last soldiers left at the end of the Second World War. One officer loved the place so much he told his men they should be paying to stay there. On arrival we ran like delighted children from room to room, breathing in the smell of beeswax and lavender polish, catching new vistas of sparkling sea from every narrow window.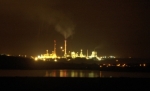 The views out across the water are stunning. Three distant oil refineries flare at night. Three giant radio beacons above the fort guide in the huge tankers which pass close enough for one group of Norwegian mariners to wave at us. Some of the rocks still bear the traces of the catastrophic oil spill from the wreck of the Sea Empress in 1996. The nearby islands of Skomer, Grassholm and Ramsey provide havens for wildlife including the seals we looked so hard for but never spotted. Along the coast-paths, soil banks built to protect the fields were like a carefully planted rock garden, with bee orchids, daisies and willow herb in full bloom.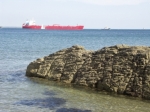 The roof of the fort was a scorching sun trap where we flew the Union Flag each morning. One night I walked down to Watwick Bay just ten minutes away. Steep steps lead to soft white sand, the lapping waves and the musk smell of wild honeysuckle. I swam alone and walked back close to midnight, still undressed in the warm night air.