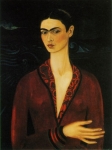 For André Breton 'the art of Frida Kahlo is a ribbon about a bomb'. A major exhibition at the Tate Modern (to 9 October, 2005) features her powerful work. Many have been gripped by the fascination of Frida Kahlo: not because it is intensely beautiful or hugely grand but because it is deeply personal, intensely vivid and raw. Red raw even with her own blood and with her own tears that fall in self-portraits where her body - maimed by a violent accident that cast its shadow across her life - lies ripped open. Her beautiful face lingers most in the memory. Her expression is proud, resigned and defiant. She is vulnerable and yet composed, face half-turned away from her viewer.

In her marriage to the muralist Diego Rivera she found the basis for an enduring connection with the Mexican soil and its ancient people. Mexican pitahaya fruit plump erotically and are pierced by needle sharp flags like the steel that shattered her spine and took away her womb.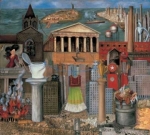 There is duality in her attempt to square her European father with her campesina mother: stiff colonial dresses are juxtaposed with the peasant costume that was her trademark. Duality in her bisexuality too, and in My Dress Hangs There, 1933 which illustrates her antithesis to American 'Fordism' with its concrete factories and obsession with sport and hygiene. Her sense that she sprang from the Mexican soil and that she would return to it gave her hope of a kind of reincarnation. This powerful spirituality, which fused east and west and placed both Gandhi and Hitler in her pantheon, provided an enduring message of hope, carved out of Kahlo's despair and desperate adversity.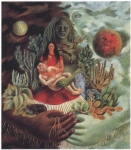 The cosmology of the Love-Embrace of the Universe (1949), in which she cradles Diego as naked adult foetus while she too is cradled by the Mexican earth goddess who in turn is wrapped by a female sun and moon, seemed a most poignant encapsulation of her spiritual journey.
As the light faded that afternoon I swam great circles in the men's pond on Hampstead Heath. Trees hid the broad pond from London and the water was sweet with an earthy murkiness.