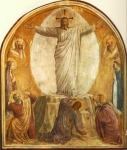 To St Paul's in London for a Saturday service on the Feast of the Transfiguration. Friends from Schola Aquae Sulis sang music by Howells and the sermon asked for prayers 'for this beautiful but broken world' on the 60th anniversary of the bombing of Hiroshima.

Transfiguration - when Christ's clothes became dazzling white and a voice said 'this is my Son, listen to Him' was the theme, with a parallel with moments of transfiguration in our own lives.

The sermon quoted research documenting instances of theophany: moments when the divine is suddenly made visible. In landscape, when the light changes and everything seems for an instant transformed, at peace and whole – I have experienced these feelings.

Were there moments like these in the service, when incense mixed with incantatory chants, and light shone on a distant cross on the high altar, music wove a spell and the great cathedral became much more than a glitteringly grandiose tourist attraction?

Music has this power to move and transform me. It was like this in a late night Prom in the Royal Albert Hall last Thursday. The Canadian counter tenor Daniel Taylor sang the Handel aria 'Cara sposa, amante cara' from Rinaldo. The piteous, plaintive threads of music seemed to shape filigree patterns in the air around us, drawing together audience and performer in a moment of great stillness and beauty.

But are these 'feelings' real - whatever that means? They might not withstand scientific examination, but it seems to me that there is a transforming power in these humbling moments of transfiguration that can inform our whole lives.

Tentatively I pray this hope can endure amid all our cruelty and greed and selfishness.