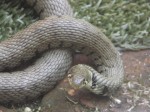 Sunday morning and a grass snake slithered across the sill of my garden office. Barefoot and with my exit blocked, I thought the idea was it would slither off if I made a noise - but it didn't (and was obviously sunbathing). When I ejected it with a steel ruler it did a quite convincing cobra impression, complete with hissy fit and the discharge of some very malodorous urine. It also did a convincing job of stopping me leaving. Deep down I have ocker roots. I rapidly re-located them and turfed the blighter out of my way...
Greenwich Park was a mass of sunbathers. The Ranger's House contains medieval and Renaissance art from the collection of nineteenth century De Beers diamond millionaire Sir Julius Wernher. I was pleased to see he had a herpetological eye - collecting a fine majolica plate decorated with a writhing serpent. Then on to the Royal Observatory and a wonderful prospect of Greenwich Hospital, the dome, the gherkin and the canary.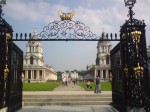 Down the slope to the Queen's House - Inigo Jones' pioneering Palladian building of 1617. The chapel and Sir Christopher Wren's painted hall at Greenwich Hospital provided a suitably baroque contrast. Then a peek at the charred remains of the Cutty Sark before taking the tube to Canning Town to get Schmeissed.
Beneath a buzzing overhead power line and wedged between the DLR and Bow Creek is an East End institution called the Docklands Steam Baths. A place where men can be men and are not afraid of slapping each other all over with a raffia mop covered in soap suds. They also practise something called vernik treatment - which is being beaten with leafy twigs - but that wasn't available as some Russians had left their twigs on the sauna heater that morning and it had caught fire.
I had a thoroughly good time drifting off in the steam rooms of different temperatures. People of all ages and backgrounds. One well-spoken gent asked me about 'Sunday in the Park with George'. I enjoyed chatting to a friendly Albanian whose grandfather had the great misfortune to be killed by Communists because he worked for King Zog. A retired chap with a whole body tan asked me to soap him and then gave me the Schmeiss treatment. A surreal experience, head totally covered by a towel, lying in a hot steam room, being thwocked by a giant yellow mop - but very relaxing. Afterwards I helped myself to fruit and was offered tea and cake. A very friendly bunch and not at all fazed by having someone from not exactly down their way in their midst. Apparently you can even get a very reasonable curry there made to your exact specifications. I think I'll go back.