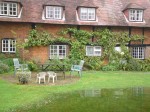 It seems to have stopped rising. It has been so much worse in other places. So far the Environment Agency's prediction seems right: the peak was reached around midnight last night. The level is now at least 15" lower than the peak in the bad flood in January 2003 when around 10 houses locally took some water in.
The meejah really have a field day. Both local radio and the nationals have exaggerated the difficulties here. They have been obsessed with river 'surges', when thanks to the flood-plain we have had just a steady rise. They have confused expected peak levels with the vital point at which the Thames 'breaks its banks' – essential if the flood-plains are to protect us from flooding. More building on the flood-plain – no thanks.
The reporting really worried a lot of locals, several of whom have come back early from holiday. Sandbags are in places a raging torrent couldn't reach. One lady, whose house is at least 3' above the peak of 2003, filled her bath with water in case she was cut off. I'm reasonably confident it won't be needed.