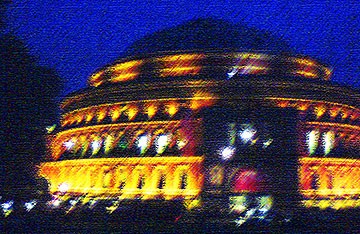 Which is better: a 'live' broadcast of a classical concert or being in the Royal Albert Hall for the performance itself? Last night's Prom included Beethoven's Fifth Symphony and centenarian Elliott Carter's Oboe Concerto. Using the BBC iPlayer I was able to compare the television broadcast, the radio version and the experience of actually being in the hall at the concert.
The TV broadcast includes a revealing interview with soloist Nicholas Daniel. In it he talks about the rapt concentration on the faces of the crowd of Promenaders standing in the arena. The Proms audience is particularly attentive - unsurprising since the hall is dominated by a well-informed crowd of 400 or more who are so motivated by the music that they are prepared to stand for it. But join any audience at a live performance and you plug in to the collective experience in a way that never happens at home.
Conductor David Robertson also gave an interview in which he identified Elliott Carter's ability to capture real experience in his music, in the same way as Virginia Woolf did in 'stream of consciousness' novels like Mrs Dalloway. Being in the Albert Hall it is the moment-by-moment collective experience that makes the music.
Standing in the hall with my £5 ticket bought just before, I was hot, and not quite close enough. But when the conductor's baton hovered momentarily at the top of its first down beat, hushed expectation distilled into one moment of complete focussed concentration.
In the fifth symphony the sound was rich with detail I'd never noticed in recordings, and the dynamic range was vastly greater than any recording. Even a static viewpoint sometimes distracts me and so I listen with my eyes closed. In the apparently familiar Beethoven there were moments of complete engagement in the music. This is consciousness changing 'flow experience'. When I was a child it happened so much more easily.
The broadcasts are flush with background information, sophisticated camerwork and the BBC's determinaton to make everything upbeat and accessible. The sound is perfectly balanced. The broadcast 'experience' is almost too polished and content packed, (how I love close-ups of the hammed-up histrionics of some conductors and soloists!). For me, make it live any day.