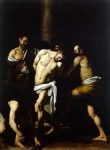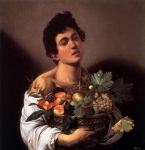 Just 16 paintings in this show, but what an impact they made. I expected the cherry ripe sensuousness of 'Boy with a basket of fruit' (1593-4) but these six dimly-lit rooms focus on Caravaggio's last four years before his death in exile aged just 39, in 1610. Comparison between two versions of the 'Supper at Emmaus', just 5 years apart, showed the transformation from richness and colour to a darker, more humane vision. Caravaggio's stunning chiaroscuro and drama that inspires film-makers like Jarman and Scorsese. In 'The flagellation' of 1607, the tension between Christ's soft submission and the hatred of his scourger is painful to see.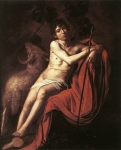 'Saint John the Baptist' of around 1608 had a knowing, sad eroticism that shifted the focus between the saint and Caravaggio's street-boy model. In his last days Caravaggio was a hunted man. He bought his way out of prison and used membership of the Order of St John in Valetta to buy the Pope's pardon.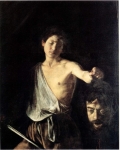 Smooth perfectionism gives way to looser brushwork and less formality. The painter sometimes depicts himself as a hunted creature or as a seeker of absolution, or even (perhaps) as the dismembered head in 'David with the head of Goliath' (1606-10). After this period of intense creativity, Caravaggio died of fever, chasing after the ship that carried away many of his last works. The power and intensity of these last paintings, several of them on a huge scale that would show poorly here, stunned me. Attempts at analysis seemed superfluous. Nothing to do but drink them in.