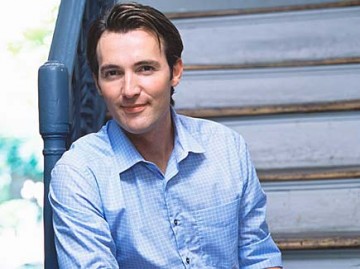 "My mother always said never trust a man with matching belt and shoes" - so said winsomely entertaining TV presenter Angus Purden of my outfit when I was persuaded to take part in the filming of an episode of one of the BBC's most popular day time shows, 'Cash in the Attic'.
What sounded like fun was actually an object lesson in just how painstaking and exhausting it is building up just 45 minutes of broadcast material. It was also proof of the voracious appetite of the media for material. Two days filming, each 12 hours long. Since they only had two cameras, every set-up had to be recorded repeatedly and ritualistically from every angle: 'wides', 'singles' and close-ups, plus a trademark out-of-focus holding shot with a vase in the foreground. Words that once seemed spontaneous rapidly became inane.
Barbara's mother died last year leaving her and her brother with a huge inheritance tax bill. The family house lies deep in the woods in Nettlebed in rural Oxfordshire. A beautiful and magical place, with pheasants in the garden, red kites calling overhead, and an antiquated kitchen with an indicator board once used by servants. A green baize door separates the kitchen from the dining room and the house is filled with family treasures, many from turn-of-the-century Vienna. I remembered Christmases year ago when real candles twinkled on a huge tree and we played Scrabble in front of a blazing log fire.
The camera caught Angus as he twirled in Barbara's mother's kimono and we obligingly acted out surprise on discovering him. Barbara's ferocious dog Foxy performed as we walked in long-shot through the woods. After the crew finally left, ornate lights that had been on the wall when the house was bought almost half a century ago were taken down forever and we polished up for the auction a fine silver Viennese Secession coffee service that had languished in a cupboard for years.
The auction itself was filmed weeks later in Cirencester. Understandably perhaps, Barbara needed to smoke something calming between shots. I chatted coyly to Angela Ripon. Two sets of lots were being filmed for two separate programmes and we kept being called in (like obedient circus animals) to mime delight or dismay according to the prices achieved. Barbara rushed to ask purchasers where the lots were ending up. The kimonos went eastwards. Angus told me about his escapades in New York and said he was more interested in our chat (and in one of the porters) than the filming.
Transmission was today. I expected it to be in July. Some extraordinary impulse made me email the production company about transmission the very moment the broadcast began. Within an hour I'd had calls from friends of daytime TV watchers and a website thread had started discussing my appearance. And tomorrow yet another unlikely group of participants will have their Warholian 15 minutes.
In spite of the £4,380 proceeds from the auction – just a tiny part of the tax due - Barbara and her brother's house in Nettlebed must be sold. Its contents will be dispersed forever. Somehow, Mr De Mille, I don't think I'll ever be ready for my close-up.