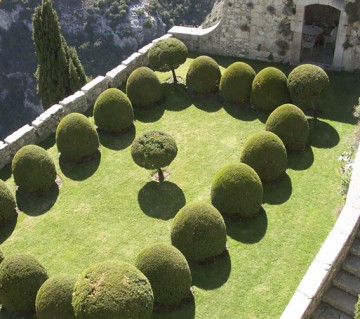 The heat fills the Provençal landscape. It is a tangible thing that sets the distant rocky ridge shimmering, across a deep valley from the terrace of the Château de Gourdon, high in the hills above Grasse. Inside the seventeenth century castle is a fabulous private collection of art deco treasures. Room after room pay homage to the greats of French design of the thirties to fifties: not just a Le Corbusier chair but the Le Corbusier chair: the original factory prototype. The dressing table Eileen Gray made for her own use; astonishing decorated lacquer furniture by Jean Dunand.
On the château's 'Terrasse d'Honneur' lines of curving and swelling box seem to jostle one another. Their soft, rich greenness is a perfect contrast to the dazzling brightness of the limestone walls. Across the gardens and at a lower level, a Vivaldi recorder concerto sounds out from beside a large pool, just visible behind tall cypresses. Distant shouts from children playing by the water, as a gardener with a ponytail lackadaisically pulls weeds from a flower bed. From a little seat set into the wall I can look down on a private terrace. At the end of the terrace is a belvedere giving views on to the steep rocky valley below. On the stone table inside the belvedere there is water. Two youngish men sit at the table. One is tall, with longish dark hair, dressed all in white, the other shorter with light brown hair. In the sultry afternoon heat, a word or two of their gentle conversation drifts towards me.
When the castle visit is over, I sit for a while on the low wall of the roadway that leads down to the village. The two young men appear outside high double gates which hide the castle's private gardens. The taller man has aquiline features, his complexion is clear and pale, his hair quite black; his friend has a rounder, more sunburnt face. They are still chatting. Both have an almost aristocratic air.

Suddenly the taller man seems to catch sight of someone in my direction. He walks purposefully towards me - but stops halfway across the roadway beside a short and frail-looking woman with ginger-coloured hair. He gracefully kisses her on both cheeks. She seems pleasantly surprised at this unexpected compliment. The old lady and young man exchange a few words and he returns to his friend at the garden gate of the castle.

The two of them now stand for a while, until I am certain the taller of the pair is looking directly towards me for a second time - and in that moment a look of understanding passes between us. Then the friends turn and close the castle gates behind them.