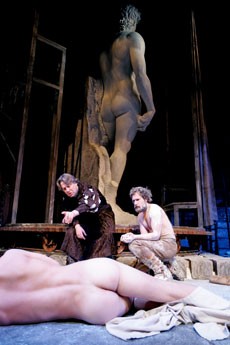 Sir Anthony Sher's first play 'The Giant' is showing at the Hampstead Theatre until December 1st. Like an over-stuffed Christmas stocking, the play is much too full of goodies. Will Leonardo or Michelangelo win the competition to carve a David for the newly created Florentine Republic? Which of them will get the lissom young quarryman who is the statue's model? What is the nature of beauty and of genius and will a late cameo apperance by the Mona Lisa save the day?
Almost three hours of relentlessly upbeat entertainment include many fulsome speeches crammed with historical insights, bouts of singing, a masque, much camp tomfoolery from Leonardo's fawning boyfriend (Simon Trinder) and an impressively elaborate set dominated by a recreation of 'il gigante' - the 6m high block of luminous marble on which Michelangelo worked frenetically for over two years.
As Machiavelli, Stephen Noonan entertainingly spins the statue's importance as a proud symbol of Florence's defiance. Its nudity and lack of circumcision are given credible treatment as is Michelangelo's inspiration in depicting the boy hero with his sling just before the battle with Goliath. That he carved the model's initial on the statue's sling was news to me.
Two lunatic followers of Savonarola and his 'bonfire of the vanities' caper idiotically across the set far more often than is necessary. There's much undress, most of it by the impressive Northern Irish actor Stephen Hagan who so ressembles the world's most famous statue that quarrymen in Carrera apparently cried out 'Davide!' as soon as they saw him.
Unfortunately John Light's passionately devout Michelangelo and Roger Allam's pompous Leonardo lacked the kind of compelling intensity to be expected of such artistic titans. The play's heart is supposed to be the scene where the two of them debate the source of the model Vito's beauty - but it lacked real dramatic focus. There was far more drama in Light's medieval religious ravings which contrasted so neatly with Machiavelli's devilish pragmatism.
Director Gregory Doran seems to have been much too loyal to his partner Sher to make the cuts and changes in pace the play so badly needs. The cast work more than their socks off, but it is sadly too easy to see why in its present form this RSC commission is unlikely to make it to one of their stages.