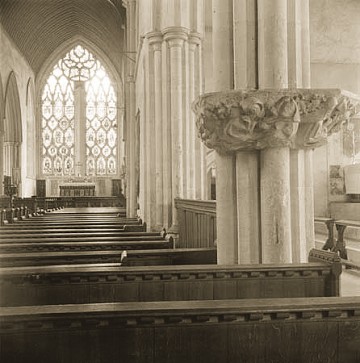 The unfashionable Cornish poet and playwright Charles Causley died in 2003. At an Advent service in Dorchester Abbey I heard what may be one of his greatest poems, 'I am the great sun':
From a Normandy crucifix of 1632

I am the great sun, but you do not see me,
I am your husband, but you turn away.
I am the captive, but you do not free me,
I am the captain but you will not obey.
I am the truth, but you will not believe me,
I am the city where you will not stay.
I am your wife, your child, but you will leave me,
I am that God to whom you will not pray.
I am your counsel, but you will not hear me,
I am your lover whom you will betray.
I am the victor, but you do not cheer me,
I am the holy dove whom you will slay.
I am your life, but if you will not name me,
Seal up your soul with tears, and never blame me.
In this wonderfully simple devotional sonnet, Christ speaks from the cross, full of compassion for human inadequacy.
An essay by Dana Gioia analyses Causley's powerful work. You can also hear Causley himself reading 'At the British war cemetery, Bayeux'. Poets' own voices often seem inadequate, but Causley brings his rythmic and incantatory lines to life.