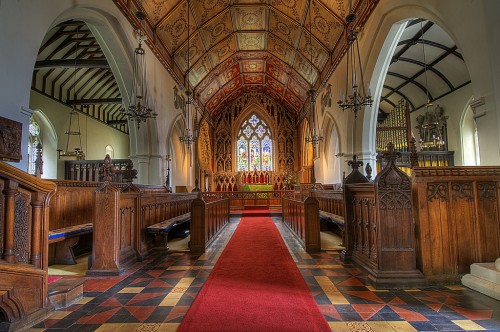 In Yeats' 'Second Coming (Slouching towards Bethlehem)' his concern was Ireland's struggle:
Things fall apart; the centre cannot hold;
Mere anarchy is loosed upon the world,
The blood-dimmed tide is loosed, and everywhere
The ceremony of innocence is drowned
The best lack all conviction, while the worst
Are full of passionate intensity.
In our village church on Christmas Eve the candles were lit, every window ledge decorated, every pew filled and there was an expectant buzz of chat just before the lights went down: the familiar, lilting solo of the first verse of 'Once in Royal David's City', then the congregation of 400 or more swelled the sound, familiar incantations that span me back to a dozen or more fortunate Christmasses before. You can find stables round here, sheltering not oxen but ponies, much-loved mounts of Cressidas or Saras. Our cattle sheds will set you back around £1m. These days they've all been converted to executive homes for the less than poor or mean or lowly.
From the priest's welcome to the final blessing, the service runs like clockwork. The same carols, in the same order, latecomers pushing in from the pub, the brisk filing up to the communion rail, busy white gowned servers administering bread and wine, then back down the north aisle, faces respectfully downcast, expressions of assumed solemnity.
The sermon quotes Betjeman, not the bible.
And is it true,
This most tremendous tale of all,
Seen in a stained-glass window's hue,
A Baby in an ox's stall ?
The Maker of the stars and sea
Become a Child on earth for me ?

And is it true ? For if it is,
No loving fingers tying strings
Around those tissued fripperies,
The sweet and silly Christmas things,
Bath salts and inexpensive scent
And hideous tie so kindly meant,

No love that in a family dwells,
No carolling in frosty air,
Nor all the steeple-shaking bells
Can with this single Truth compare -
That God was man in Palestine
And lives today in Bread and Wine.

(from Christmas by John Betjeman)
In my own heart hope and doubt mingle equally.
Pope Benedict was widely reported just before Christmas as saying 'that saving humanity from homosexual or transsexual behaviour was just as important as saving the rainforest from destruction' (Irish Times). His actual words are far less simplistic, but what kind of Christmas message was this? When dogma collides so catastrophically with the secret God of the heart (the God that knows all and accepts that which is meant to be), where is the good in organised religion?
Soon after Christmas on Radio 3's 'Belief' Cambridge academic Tim Winter (Abdal Hakim) was questioned with gentle persistence by Joan Bakewell about his conversion to Islam:
I always wanted to have the person of Jesus who I was brought up with and who is an extraordinary world figure... as part of my religious vision of the world. Islam is the only non-Christian religion where He's really important, but actually comes closer to you in a strange kind of way, because in the orthodox Christian understanding, He is man but also God. And I couldn't figure out how you can actually be human if you're also God. So in a strange kind of way I felt that one of the consequences of becoming Muslim was to become much closer empathetically, humanly, to the person of Jesus than I'd ever managed as an Anglican.
His answers are revealing when he is held to account on September 11, on women and democracy in Islam. He ends with his struggle to conform:
...you go through the door, and then the reality of religion is before you, which is ultimately about loving and adoring God, loving and adoring His creation, which is endlessly brilliant, beautiful, rigorous, difficult, fascinating. And trying to represent in one's own life a conformity to how God wants His servants to be. And that's difficult. Learning how to pray is easy, but actually conforming in the depths of one's being to what the divine, benign nature wants us to be - that's the real challenge. And I'm still working on that.
The 'little town of Bethlehem' is now, like the Gaza Strip, a Palestinian territory. There's been less dreamless sleep for the Gazans since the Israeli invasion this Christmas. One religion-dominated community is yet again beating the hell out of another. What hope now for the bi-national solution imagined by humanist Edward Said?
O little town of Bethlehem
How still we see thee lie
Above thy deep and dreamless sleep
The silent stars go by
Yet in thy dark streets shineth
The everlasting Light
The hopes and fears of all the years
Are met in thee tonight

O holy Child of Bethlehem
Descend to us, we pray
Cast out our sin and enter in
Be born to us today
We hear the Christmas angels
The great glad tidings tell
O come to us, abide with us
Our Lord Emmanuel