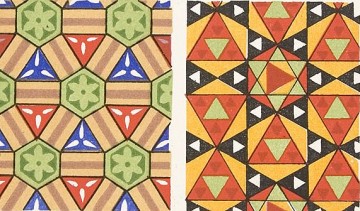 Web find of the month is a site devoted to complete reproductions of illuminated books. It includes Owen Jones' astonishing Grammar of Ornament (1856), a tour de force of nineteenth century letterpress and chromolithographic printing which has had an incalculable influence on artists and designers from the Art Nouveau to Gaudi in Barcelona.
Owen Jones' most influential book contains his own re-drawing on 'scientific' principles of over 2,000 decorative designs. The scope is vast: from designs created by 'savage tribes' to ornament from the ancient world, Arabia, China, India and Europe. The motifs presented range from intricate and highly elaborate high Renaissance manuscript illumination to apparently simple geometric tile designs from Moorish Spain and Persia.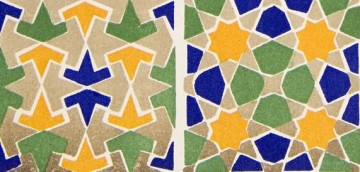 A passion for the orient
Jones (1809-74) was an architect who became passionate about the superiority of non-European ornament after touring Turkey, Egypt, Sicily and Spain in 1831. Henry Cole, who founded the Victoria & Albert Museum, was one of his many collaborators.
Jones' passion for the near east found expression in his most significant work as an architect on the interior of Christ Church, Streatham. He was criticised for his 'excessive use' of Islamic motifs there.
Acclaimed for his decorations for the Great Exhibition in 1851, Jones worked for nine years on the publication of a lavish folio work, which exploited the capabilities of the relatively new and demanding process of chromolithography. He sold property to finance its publication, setting up his own press and training his own staff to produce it. He did not live to see it succeed commercially, and many copies were remaindered.
Besides including a historical survey and commentary on the many gorgeous full page colour illustrations, Jones developed a series of 37 'design propositions' which attempted to codify the construction of well-made ornament. For Jones: 'All ornament should be based on geometrical construction' And 'true beauty results from that repose which the mind feels when the eye, the intellect, and the affections, are satisfied from the absence of any want'. In his final chapter he advocated a new kind of architecture based on natural forms.
There is an enduring appeal in many of these stunning illustrations. They combine a remarkable and carefully constructed rhythmic intensity with a highly developed colour palette. Since the Modern Movement, architects and designers have associated ornament with the literally superficial, seeing it as a layer of irrelevant decoration that obscures the underlying nature of whatever it is applied to.
For me and I suspect for Jones, the desire to decorate is an integral part of human experience. His use of geometric reconstruction seems to link to metaphysical ideas of the golden section or 'divine proportion' which were taken up by Modern Movement architects such as Le Corbusier.
Good ornament is intrinsic to the very essence of things.
The Grammar of Ornament on CD-ROM for designers.