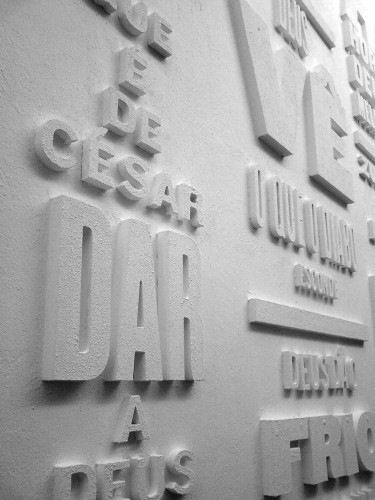 Up a narrow street in Belem, Lisbon, and just yards away from the hungry tourists queuing for their Pasteis de Nata (the custard tarts which are a Lisbon speciality) there is a chapel which re-opened as a gallery in September this year. Its outer wall has been transfomed by an art installation inspired by wood type. Chunky sans serif lettering of differing heights and depths has been applied to the wall and then given a coating of bright white render. The bold capitals are stacked into arrangements vaguely reminiscent of Henrik Werkmann.
The Chapel of the Immaculate Conception was dedicated in 1707. Unlike much of central Lisbon, it survived the catastrophic earthquake of 1755. The messages which now cover much of the outer wall are mostly religious, and more rigidly arranged than Werkmann's anarchic experiments. The piece is called 'Vai com Deus' (Go with God) and is the work of Oporto studio R2 Design.
It must have been a nightmare to specify and install. The letters have been individually pinned to the wall and are not always spaced or aligned with the kind of perfection we are used to. Perhaps this is why it has yet to feature on the web site of the award winning designers.