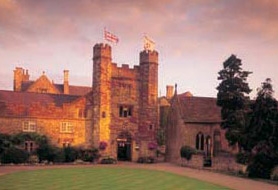 'A beautiful life is to be lived in the shadows, but with peace, order and tranquility' - these words by the painter Gwen John (1876-1939) were quoted at an exhibition about her work and that of her brother Augustus which I saw for a second time this weekend. The show was at the National Museum & Gallery in Cardiff. I was there after an idyllic family wedding at the St Pierre Hotel in Chepstow.

Gwen John's words fit both her work and with my experience of a quietly happy and ordered weekend in Wales. She believed profoundly that her art was integral to her faith, and in her last years produced some remarkable understated portraits inspired by a devotional image of Mère Poussepin, the 17th century founder of an order of nuns near her home in Meudon.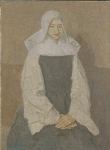 These small-scale, chalky portraits have an austere beauty. John's subjects gaze serenely out of narrowly proportioned canvases in muted greys and browns. After an affair with Rodin, the painter lived out her last years in ordered isolation in a pair of little wooden houses surrounded by green. I heard four young harp students give a recital in the gallery. Mussorgsky's Great Gate of Kiev sounded wonderfully dynamic when performed by a harp quartet, overlooked by a portrait by William Parry of his father John, 'The Blind Harper of Ruabon', (d 1782) sometimes called the father of modern harpists.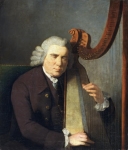 I was delighted by the empty, bright galleries with their collection of remarkable Monets, Renoirs, Cezannes and Sisleys given by the Davies Sisters of Gregynog. Paintings gave glimpses of long dead sitters' lives: the newborn, a family group by Gainsborough, August John's ferocious children, the middle-aged in their prime and Gwen John's serene elderly nuns. I watched the same life stories being told out in Cardiff's shopping streets. In the warm spring sunshine all seemed ordered and peaceful. Even the traffic moved with stately good manners.

Calm good organisation and quiet consideration seemed to mark the wedding, the official start of another couple's life together. It began with a service in the tiny church of St Peter, St Pierre, next to the hotel.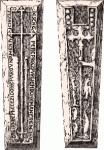 The manor of St Pierre was founded by the Normans and once briefly sheltered the crown jewels. In church the wedding party sat close-by two remarkable 13th century carved tombstones, one of which is believed to commemorate Benet, the church's first known priest. A staff sprouts leaves and is surrounded by wildlife celebrating renewal. Like generations of locals before me I touched the carving's hand that he might bring luck both to me and to the newly married couple.



Gwen John at the National Museum of Wales

Tate Gallery article about Gwen John